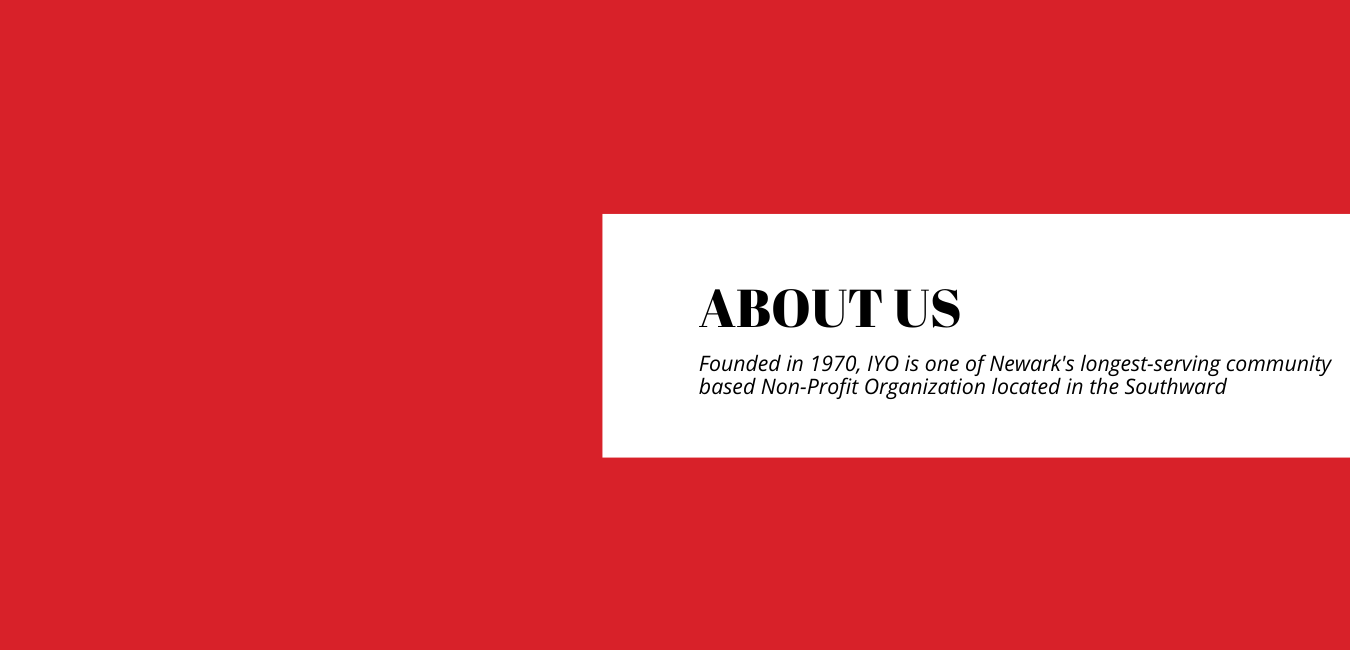 The International Youth Organization is a Non-Profit 501 (c) 3 that has been serving the Newark/Essex County area for over 40 years, The organization was founded by James and Carolyn with the assistance of a group of committed volunteers
As a Newark Fireman and Newark Special Police Officer, Mr. Wallace observed the myriad dangers that awaited young people on street corners 'Giving kids a route off the streets" was his idea to help improve young people and their families lives to help them realize their full potential and to be productive citizens.
Our Story
IYO- The International Youth Organization has administered the States New Jersey Youth Corps for Newark and Essex County since the inception (1984) and has successfully trained thousands of youth and young adults who want a "second chance" at a brighter future.Under the State of New Jersey Labor and Workforce Development, the " corps" is a year-round voluntary program designed for youth and young adults ages 16 to 25 who have left high school before earning a diploma or obtaining adequate job skills.
The New Jersey Youth Corps program offers:
Recruitment- Call To Service- Every Effort is made to reach those who could benefit from the Youth Corp Program
Orientation- Educating potential participants about the Youth Corps requirements
Induction: The Youth Corp members are inducted by reciting the pledge to fulfill the program requirements
Academics; Preparing the Youth Corp members to pass the HSE/GED
Employability/Life Skills- Preparing participants for the 21st-century workforce.
Community Service/Work Based Learning- Community service is used as a learning and workforce experience
James Wallace
Founder
A Newark Fireman and Newark Special Police Officer dedicated his life to the development of young people by being the Founder of The International Youth Organization in Newark, New Jersey.
July 4,1928 - October 6,2005
Caroyn Wallace
Co-Founder
Mrs.Wallace is the Co-Founder along with her late husband Jim Wallace of The International Youth Organization.A passionate advocate for non-traditional approaches to supporting young people who may have been written off by society. She is the recipient of many awards nationally and locally for her extensive work with young people.
Mayor Emeritus Wayne Smith
Board  Chairman 
Wayne Smith is the Chairman of The Board of The International Youth Organization. He is the Community Business Development Specialist at the BCB Community Bank, President/CEO of Wayne Smith and Associates a marketing, public relations, and urban affairs consulting firm.Also serves as President of the South Orange Chamber of Commerce (Nj). His public sector includes 12 years as Mayor of Irvington, New Jersey, 6 years on  Irvington Municipal Council and 4 years as Council President. He served as President of both.The New Jersey Conference of Mayors and the New Jersey Urban Mayors Association.